Charade Read Along Announcement!
Announcing the Charade Read Along!!
I am so excited to make this announcement today! We did it for Masquerade and it was so fun and such a success that people were breaking down my doors to get a Charade Read Along together – – – Okay, they weren't breaking down my doors. But a few people did ask politely. 🙂
The Charade Read Along will be coming to you in November – every Monday in November to be exact. The final wrap up post of the read along will be on Friday November 30th…. and will be here on my site. I chose this day (and not the next monday) because the 30th is release day for Tirade!!! Woot woot!
I know some of you weren't involved in the Masquerade Read Along and have no clue what a read along is. Allow me to briefly explain. A Read Along is when a group of bloggers all sign up and read the same book together! In this case it is Charade (Heven and Hell #2). This is how it works: Every Monday we will be "discussing" a set of chapters from Charade (like the first 5 then the next 5 and so on). There will be 5 questions about the set of chapters that we read that week. Each blogger takes those questions and answers them, posting their answers on their blog. Then everyone pariticipating in the Read Along will hop from blog to blog to see what everyone said in their answers. There will be a linky at the host blog every monday for you to link your post to.
There will be TWO prize packs that will be given away at the end of the Read Along. I will announce the prize winners on November 30th here on the blog. To qualify for the prizes you must participate every single week of the read along. The prizes in the prize packs will be announced on sign up day which is October 15th. You will be able to sign up here on this site or on one of the 4 host blogs. The hosts of this rockin read a long are:
Heidi @ Rainy Day Ramblings http://www.rainydayramblings.typepad.com (Host week November 19th)
Veronica @ Mostly Reviews http://www.mostlyreviews.blogspot.com  (Host week November 26th)
Jennifer @ Some like it paranormal http://somelikeitparanormall.blogspot.com/  (Host week November 5th)
Christy @ Love of Books http://christysloveofbooks.com  (Host Week of November 12th)
Final Post and celebration November 30th (friday) – Here at Cambriahebert.com
The signups will be on all of these blogs October 15th – go to one and put your name on the linky form and you will be good to go. I am going to give a FREE ecopy of Charade to every 10th blogger who signs up. Also on this day we will be posting the first week's set of questions so you will have them to fill out and that is what you will post for your first post (on November 5th) – then after that the host for that week will be posting the questions for the following week so you get your questions a week in advance.
Bonus: if you have already read the book you are already ahead of the game! LOL.
On October 15th I will be posting the first week's questions, the prize packs up for grabs and the sign up linky.
If you are already screaming YES! SIGN ME UP! (yay for you!) Then you can go ahead and grab one of the buttons (or more if you want) to display on your blog and anywhere else you want.
Here are the buttons:
 html code for the button above: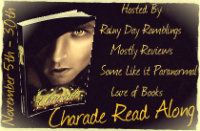 html code for button above:
html code for button above:
Banner Options: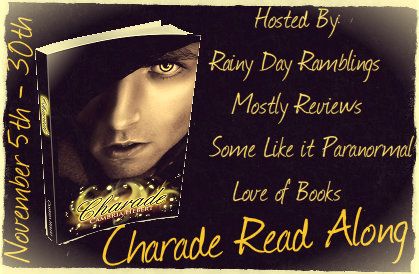 html code for banner above:
html code for banner above:
So that is ALL the info you need for the Charade Read Along! I hope to see you all here on sign up day! We had an awesome time with the Masquerade Read Along so I know this one will be fantastic!!!!  See you Oct 15th for sign ups!