Adrienne deWolfe Blog Tour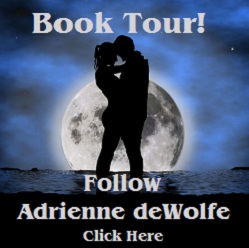 Hey Everyone!
Today I am welcoming Adrienne deWolfe to the blog. Adrienne is a a successful romance author that is hosting an online writing class for writers who want to learn How To Write A Romance Novel that Sells. I have interviewed Ms. deWolfe about her own writing and her new class. It's full of helpful tips and I hope that you will enjoy! So without further ado allow me to get to the star of the day!
1. You are a romance author who has been published through Avon, a very well known publisher of Romance novels. Can you tell us a few of the titles you have written?
Thanks for asking!
I've written historical Romances for 2 publishers, Bantam Fanfare and Avon Books.
My Avon Books will be re-released this Summer as ebooks. They include SCOUNDREL FOR HIRE and ALWAYS HER HERO.
My Bantam Books are currently available as ebooks. (Feel free to snicker at the hideous ebook covers, which will be redesigned later this year! Ugh!) I promise you, the books are WAY better than the covers (to prove it, I've taken the liberty to include some kudos:)
TEXAS OUTLAW (Book One in the Texas Trilogy)
· Winner, Honey of a Heroine Award (West Houston Chapter, Romance Writers of America;)
· Finalist, 2 Rita Awards (Romance Writers of America)
· Finalist, Reviewers Choice Award (Romantic Times Magazine)
TEXAS LOVER (Book Two in the Texas Trilogy)
· Winner, K.I.S.S. Award for Sexy Heroes (Romantic Times Magazine)
TEXAS WILDCAT (Book Three in the Texas Trilogy)
· Winner, Best Historical Romance of the Year (Calico Trails Magazine)
· Winner, Cameo Award for Strong Woman Heroines (Calico Trails Magazine)
· Winner, K.I.S.S. Award for Sexy Heroes (Romantic Times Magazine)
· Finalist, Reviewers Choice Award (Romantic Times Magazine)
2. What is the most rewarding thing about being published?
Receiving enthusiastic letters from fans — and getting to meet readers in person!
Because I wrote 3 Western Historical Romance novels set in Texas (where I live), I've attracted a cadre of gentleman readers.
I'll never forget the book signing in which the store manager called me over the loud speaker to report to the phone. One of my gentlemen readers had been driving across the state to attend my book signing, and he got a flat tire. I was so touched that he'd gone to so much trouble to meet me – and then to have me reserve autographed copies of my Texas Trilogy for him! As it turned out, he was one of the last Texas Cowboys, who actually drove cattle to Abilene, Kansas, during the early 1900s.
3. You love Historical Romance novels, as well as Paranormal Romance and Young Adult Fantasy. What is it about these genres that you love so much?
I absolutely love reading and writing stories with happy endings. That is why I started my publishing career by writing Romance.
In genre Romance, a woman is consistently characterized as "heroic" and is given power over her life. Romance remains one of the few bastions of fiction where a reader can turn, with confidence, knowing that in the end, the girl will get the guy, and perhaps more importantly, the guy will treasure her as a woman.
As for Paranormal Romance: I have always been interested in the supernatural. Believe it or not, the first novel that I ever tried to sell to a New York publishing house was a medieval Romance with a heroine who could heal people with her hands. Unfortunately, I was 10 years ahead of my time: no one was publishing Paranormals in those days. So I started writing Historicals, my favorite sub-category of Romance to read.
Once you enter the fiction market as a published author, your readers expect you to write the same sub-category and/or Time Era, book after book. (At least, that is what my Bantam editor told me.) Since my first Bantam novel was a Western Historical Romance, my editor asked me to put my Paranormal stories on hold. The good news is that I shall be self-publishing my first Paranormal Romance in Autumn 2012.
You also asked me about my reasons for writing YA Fantasy. I have always had a passion for teaching, and I have counseled teenagers in crisis. I decided to try my hand at a YA Fantasy, because I wanted to inspire and encourage young adult readers by providing them with strong male and female characters – role models who would choose cooperation and compassionate problem-solving over swordplay and violence.
To that end, in my YA Fantasy series (The Guardians of Aeld), I have created an organization of sorceresses who pledge to use their magic to preserve "the Life Spark in all Children of the Mother Goddess" — a pledge which prohibits them from harming any creature, even to eat.
Another strong theme in the series is the idea that whatever you think creates your Reality; therefore, if many people are concentrating on warfare, scary things occur in the natural world, including unstoppable storms.
I don't want to give away the storyline, but the young adults who are chosen to be Guardians of Aeld in this series must all come to terms with the idea that their actions, no matter how small, impact the greater world around them.
Now you are probably wondering when this series will be released! That is an excellent question. I am hoping to have the first book ready for publication next year. The best way to keep up with my writing projects is to subscribe to my newsletter at WritingNovelsThatSell.com.
4. You are going to be teaching an online writing course, titled "How to Write a Romance Novel That Sells". What is your motivation for teaching this class?
I was so blessed early in my career to have wonderful mentors! I started writing in Houston, Texas, which was a hotbed for Historical Romance novelists, including Susan Wiggs, Barbara Dawson Smith, and Christina Dodd. After I moved to Austin, I was invited to join a critique group that included Harlequin authors Patricia Wynn, Cara West, and Pamela Ingram.
I am absolutely certain that I would NOT be published today if these talented Romance writers had not given so generously of their time and knowledge. I vowed that I would someday give back to the writing community the way my mentors had given to me. That is why I developed my website, WritingNovelsThatSell.com. And that is why I am so passionate about providing constructive story critiques.
My mission is to help aspiring authors live their publishing dream. How to Write a Romance Novel That Sells is one of several online courses/workshops that I teach.
5. How do you think people who enroll in "How to Write a Novel That Sells" will benefit?
My hope is that aspiring authors will receive the knowledge and skills they need to finish writing a salable novel and market it successfully to literary agents and Romance editors.
6. Can you share with us a few of the things you will be discussing during your course?
How to Write a Romance Novel That Sells is an 8-week course that includes lectures and live story critiques. The lecture topics include:
~ Understanding Your Market and Your Readers
~ Developing Lovable Heroes and Admirable Heroines
~ How to Start a Romance: Birthing the Book
~ How to Plot a Romance: Writing a Sexy, Edge-of-Your-Seat Read
~ The 14 Bestselling Story Archetypes in the Genre
~ The 8 Story Taboos that are Prohibited in Most Romance Novels
~ The 10 Top Traits that Readers Want in their Romance Heroes
~ Crafting Memorable Sidekicks and Villains
~ Developing the Structure of Your Novel
~ Writing Sexual Tension: Kiss Scenes and Consummation Scenes
~ How to Write a Query Letter & Synopsis for a Romance Editor / Literary Agent
~ How to Beat Writers Block (Time Management and Goal Setting)
~ How to Recognize (and Give) a Helpful Story Critique
~ Planning Your Career. . . And more!
7. When you read, what do you read, and who are your favorite authors?
I have a full-time marketing job, so I have limited time to read and write fiction. Most of my reading is research-oriented. Having said that, I am excited to share some really fun reads with you – books that few writers seem to know about. I can't do without these books because they're helping me write my Paranormal Romance and my YA Fantasy:
1) Ted Andrews, a Native American Shaman, wrote my favorite "magical" nature books, complete with mythology, habitat info, and activities on how to "Shapehift," how to interpret nature omens, and how to connect / communicate with your Spirit Animal Guardians:
Animal-Speak: The Spiritual & Magical Powers of Creatures Great & Small
Animal-Wise: The Spirit Language and Signs of Nature
Nature-Speak: Signs, Omens and Messages in Nature
2) The 21 Lessons of Merlyn: A Study in Druid Magic and Lore Written by Douglas Monroe, this book reads like a novel. Monroe alternates fictional chapters of young King Arthur's life (under Merlyn's tutelage) with historically accurate chapters that provide detailed instructions for conducting Druidic magic and ritual.
3) Grimoire for the Apprentice Wizard by Oberon Zell-Ravenheart (This author is a real-life Harry Potter! Great wizardly instruction book!)
4) A Wizard's Bestiary: A Menagerie of Myth, Magic, and Mystery by Oberon Zell-Ravenheart (AWESOME compendium of fantastical creatures)
5) And now for the fiction that I'm reading: The Mercy Thompson Novels by Patricia Briggs and The Harry Dresdan Files, by Jim Butcher (both series are Urban Fantasy)
8. What advice would you give a struggling and/or aspiring author?
Write every day. NEVER GIVE UP! (Read my blog for tips and inspiration.)
Before I became published in book-length fiction, I was already a successful newspaper journalist and business writer with more than 45 writing awards to my credit. Nevertheless, it took me 10 years to break into the Romance market – which only proves that I was stuck in my ways. My publication experience in non-fiction did NOT adequately prepare me to write for the commercial fiction market.
For me, the great "A-Ha" that eventually led to the publication of my debut novel, Texas Outlaw, came when a published Romance author looked at my manuscript and pointed out, line by line, how to correct a Romance editor's vague criticisms (such as, "There's not enough conflict in this scene"). That's why I offer professional story critiques and private coaching to fiction writers. And that's why I teach fiction writers how to recognize the difference between a "valid" writing criticism and an Urban Myth or a "personal prejudice."
In my personal opinion, too many aspiring authors lose faith in their writing because someone (who doesn't know what they're talking about) provided feedback that made a novel unsalable, or worse, that left the writer feeling like s/he had no talent.
My mission is to make VERY sure that my students don't walk away from my classes or my critique sessions feeling unworthy to be published!
9. Do you think that publishing a Romance novel and getting it to sell well is difficult? Why?
Every year, 78 million people around the world read at least one Romance novel. The publisher, Harlequin Romance, sells 4 books per second, and half of those are bought internationally. If you want to break into the commercial fiction market, I believe that your odds are going to be better in Romance than in any other adult fiction genre, simply because of the vast quantities of Romance novels that are sold each year.
Is it easy to break into Romance? Well, that all depends on your attitude. It took me 10 years to get published in book-length Romance, but I found mentors, and I kept my eyes focused on the goal.
The simple truth is, if you give up, you will never be published. If you persevere, the odds are in your favor. The only way to remain sane throughout this process is to surround yourself with positive-minded people who support your goals and help you celebrate your successes.
10. What do you like to do in your spare time when you are not writing and teaching?
I blog like a fiend!
Oh, wait a minute. That's writing, isn't it?
It's a little-known fact that I am a classically trained soprano, who has actually been paid to sing solos at weddings! (But only because those darling brides and grooms didn't hear me braying Mozart's Requiem in concert.)
Sometimes, the local hospital calls me to sing and play my zither harp for comatose (yes, comatose) patients. I like to think this is a compliment, but the jury is still out on the matter.
11. Please give everyone the details to your course; where we can find it, pricing and the dates that it is running.
How to Write a Romance Novel That Sells
8-Week Online Course
Tuesday and Thursday nights, May 21 to July 12
Register by Friday, May 11, and save $50.
Course tuition includes all instructional materials.
Enter the raffle for a free, private story critique (May). I shall also be offering raffles for autographed hard copies of my Bantam and Avon novels (which are collector's items) in June and July. In August, I have another surprise planned! If you want news of future raffles as I launch my ebook series, The Secrets to Getting Your Romance Novel Published, then I invite you to subscribe to my newsletter.
What a wonderful, informative interview! Thank you for being here today! We wish you much success with your course!
Thank you for the opportunity to "chat" with you and your readers! Don't forget to visit me on Twitter, Facebook, and Google Plus.