Spring Blog Carnival ~ Dress Up Booth
May 7, 2012

Posted by Cambria

under

Fun stuff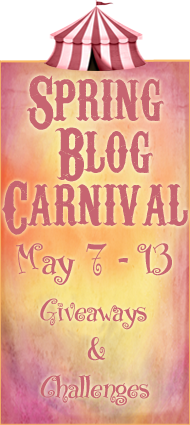 Welcome to the spring carnival Dress Up booth. Step right up and admire the costumes! Feel free to try them on and snap pictures!
Isn't dressing up fun? It allows you to try all different looks that you might not have normally tried. That must be why novels in which people dress up or dress fancy are so popular! I mean, how many book covers are there with girls in gorgeous dresses??
This booth celebrates those!
Today at the dress up booth I am going to be doing a giveaway! The winner will be selected by rafflecopter and will have a choice for ONE PRINT COPY of the books listed below:
What do you need to do to win one of these great books? Simple!!! Tell me what your favorite costume or dress a character was reading in a book. That's all you need to do. Of course if you want to Tweet this giveaway and share to FB then please do! (note: sharing to social media will not get you extra entries)
The giveaway begins today, May 7 and lasts until May 13. I will announce the winner here on the blog.
If you are part of the carnival don't forget to link up!