Rhyn Trilogy Tour Stop and Giveaway!!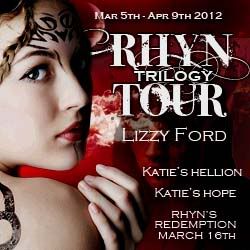 Hey everyone!! I am thrilled to be hosting Lizzy Ford today as part of her Rhyn trilogy tour!! The Rhyn series is a really great series that everywhere I go I hear something about it!! The third book is the series titled RHYN'S REDEMPTION is being released on March 23, 2012. (yes, the date on the button isn't right – bc the release date got moved back a dew days).  The first two book's in the series are:  Katies' Hellion and Katie's Hope are out there are ready to be devoured!! Katie's Hellion is currently FREE to download right now on amazon and smashwords so you can get that now and get to reading!!
Also, as part of this amazing tour and blog post Lizzy is offering a giveaway!!! So what is up for grabs? A free Ebook of Rhyn's Redemption and a goody bag filled with mystery prizes. Sounds awesome, right?! To enter just fill out the rafflecopter form below. I will announce the winners here on the blog Friday March 23rd.
Lizzy has dropped by today to bring us a guest post that is very inspiring AND she has brought some of her poetry! So sit back and relax a few and enjoy the words on the page. THEN enter the giveaway!!
Connecting with our inner voices
 I've been a writer as long as I can remember.  I think it's safe to say I've lost about 70% of everything I've written over my lifetime, and probably about 90% of my poetry.  So I was thrilled last year when my mom handed me a small folder full of my poetry from high school. I cringed when I opened it, ready to read some soppy poems about lost love and life in general.
 What I found surprised me.  The lost poetry I'd written in high school was poignant, deep and thoughtful.  It was Lizzy-in-the-raw, written in a style I've had to relearn over the past few years.  What bothered me most about reading it wasn't the subject matter or the oft-times littering of adverbs, but the fact that somewhere between high school and today, I'd learned to filter the part of me that could write soulful poetry.  I'd not only lost my poems; I'd lost the connection to my inner voice.  I'd replaced that part of me with ambition to win the rat race that is life – to build a world filled with physical treasures and a soul-killing career – instead of tending to the dying flower that was my heart.  It would take me over fifteen years to find that part of me again.  Only when I was a broken person who lost my worldly treasures and the prized career did I rediscover my ability to write poetry as raw and powerful as I did in high school.
 Admittedly, I haven't always used my poetry powers for good.  As a junior in high school, I got so angry at a teacher, I wrote her a poem and had my cousin – who worked in the office – slip it in her mailbox.  We'll just say I got her attention.  Rather than be upset at me, she chose to sit down with me and told me something that stuck with me.  She said I had a gift for words and one day, I'd become a great writer.  And then she moved me to the front of the classroom and assigned me extra homework.  The moral of this story: find out if your cousin actually likes you before engaging him in a scheme like this!
 The second moral: don't ever let anything come between you and your inner voice, the one that tells you to follow your heart instead of joining the rat race.
 As a thank you for Cambria's kindness in hosting me, I'm including three of the poems I wrote in 2010, when I started to rediscover my inner voice.  Enjoy!
Dawn
There are no words for what I feel
– Love, gratitude, awe –
All stale and scuffed like old shoes!
How do I describe a drop of rain
after a drought,
the first ray of sunlight
at dawn,
the smile of the man
I never thought I'd meet?
Only this fool would try to put that
into words which cannot be
written!
To Fate
Fate –
my enemy of many years –
you've won the war
against my disbelief.
Why you chose to face me now
I'll never know, but
I can't deny you
standing before me.
Defeat is bittersweet
when surrounded
by all you've ever
refused me.
Truce, friend.
Misery
I'm happy for you
But not for me
As the saying goes,
Misery loves company
And I'm now alone.
About Lizzy
 Lizzy Ford is the self-publishing phenom of the sweet paranormal romance series: "Rhyn Trilogy" and "War of Gods" series; and the young adult fantasy trilogy, "The Foretold," all of which launched in 2011.  She has also authored multiple single title young adult fantasy and paranormal romances. Lizzy's books have reached the bestseller lists on both Amazon US and Amazon UK in multiple categories. Widely considered a freak of nature by her contemporaries for her ability to write and publish a new book every 30-45 days, Lizzy attributes her success to a team that consists of her editor, graphics artist, I.T. Sherpa, and her rabid readers. 
Lizzy released ten books in 2011 and intends to release another ten in 2012, including launching two more series. Lizzy's books can be found on every major ereader library, to include: Amazon, Barnes and Noble, iBooks, Kobo, Sony and Smashwords. She lives in southern Arizona with her husband, three dogs and a cat. 
 Lizzy's links:
 A HUGE thanks to Lizzy for being here today!!! What a fantastic guest post!
Enter to win the Free Ebook and Mystery Grab Bag here:
a Rafflecopter giveaway